Himalayan Bank is proud to introduce American Express to Nepal. American Express® is a global services company, providing customers with access to products, insights and experiences that enrich lives and build business success. American Express has over 100 million American Express Card Members in 160-plus countries around the world.
Introducing the new Himalayan Bank American Express®Gold Credit Card
The Card for international use is designed for the discerning global traveler, one who seeks value and service that is sterling. Enjoy complimentary membership to airport lounges across the world, savour offers on travel, shopping, dining and entertainment through American Express Selects™ and take comfort in the fact that wherever you go, access to travel, medical and legal assistance is at your service
Eligibility:
Nepalese Nationals with Citizenship Certificate/Valid Nepalese Passport
Maintenance of a Foreign Currency (FCY) account (USD/GBP/EUR) at HBL
Regular source of USD convertible Foreign Currency (FCY) income for repayment
Features:
Accepted in both ATM & POS Worldwide except in India
Enjoy 3 years Complementary Priority Pass Membership to world's largest airport lounge program which gives access to 800 VIP lounges across the world
Enjoy discounted access to Radisson Lounge at Tribhuvan International Airport (TIA), Kathmandu with both working & leisure facilities
Most useful to Businesspersons/Travelers through its exclusive offers on travel, shopping, dining & entertainment in India through American Express SELECTS 

®
Shop confidently with the EMV compliant chip-based advanced technology Card for enhanced security
Travel, Medical & Legal Assistance across the world through American Express Global Assist 

®

Validity of 4 years
Supplementary Cards for your Spouse, Children & Parents
24/7 Hours Customer Service (Toll Free # 1660-01-12000)
Limit:
From USD 2,000 up to USD 5,000
*Subject to Change & Conditions Apply
# Above Fees and Charges are effective from July 1, 2015. Rates are subject to change without prior notice. Visit HBL Official Website www.himalayanbank.com for updates on Fees and Charges.
Billing/Statement Date: 1st of each English Calendar month.
Contact Us
For further information, contact us at:
Himalayan Bank Limited ,Card Center, Corporate Office,
P.O. Box: 20590, Kamaladi, Kathmandu.
24/7 Hours Toll Free # 1660 01 12000
24/7 Hours Direct Tel.: +977-1-4245979/4245980
Day Customer Service Direct Tel.: 4243223 (Office hours only)
FAX: +977-1-4245932
Email: This email address is being protected from spambots. You need JavaScript enabled to view it.
Or Simply Visit your nearest HBL Branch
URL: www.himalayanbank.com
Card Fee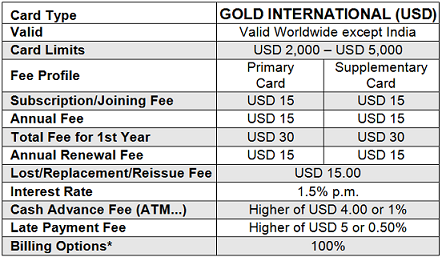 Attachments